THANK YOU FOR CONSIDERING US FOR YOUR MOTORCYCLE NEEDS
ABOUT US
This site is owned and operated by riders for riders
.

Started in Central California in 2001, Ducati Parts Unlimited was started simply to provide OEM parts to US riders for less than retail prices. As years went by immobilizers came into play and the headaches for rides began. So once again we started offering the rider community with lost key recovery services at much less and with a faster turnaround time than the dealer. We also started offering clone-able key blanks to riders that wanted to be proactive and have back-ups of their keys to avoid having to spend hundreds to recover lost keys later. Today we are one of a select few companies worldwide that can proudly offer to get you back on the road fast and for less money that the dealer. We have options and solutions NOT typically available to dealerships. So if you are in need of anything key or immobilizer related or if you're just simply looking for a new or discontinued OEM part give us a try, email us for a quote. We wont disappoint.
Specializing in services for ALL Ducati models and most all other European motorbikes and scooters such as:
Recovery of red programming key, black keys or master key

Recovery and/or re-set of start & master PIN

Recovery of code card information

Program & cut new or additional keys from code card (Keys by Code)

ECU re-flashing*

(*NOT available for all models)

Immobilizer removal or reset*

(*NOT available for all models)



Dash cloning, re-virgin and millage correction*

(*NOT available for all models)

Auction, Repo or Salvage bike security service (Change lock combination & change immobilizer codes)
FREE aftermarket Code Card generating service. (If you have the info but no card, just ask its FREE)

Most of our services are ONLY offered and available from us
We work hard to bring current and future Ducatistas OEM NOS, Discontinued and Aftermarket parts at less than retail prices. Our parts inventory comes mainly from liquidated or closed dealership inventory thorough Europe. Due to the nature of our business our parts inventory changes very often, so if you see something you like, don't wait too long to buy. Our inventory is fully searchable by Ducati full or partial Part Number as well as any keyword by using our search feature, or search by model specific parts and services by using the "Search by Model" tab/button. If you are located in the European Union most of our parts will ship directly to you from our European distribution center to save you on shipping costs, time and VAT/Taxes or import fees.


JUST SAY NO TO CHIKIN' STRIPS
IF YOUR KNEES ARE'NT DRAGIN' YOU AIN'T RIDDIN'
RIDE SAFE
---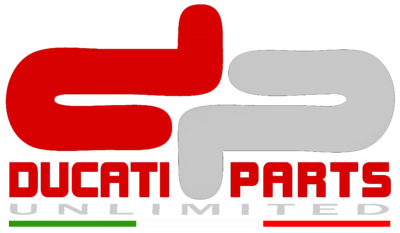 PROUDLY ENDORSES AND SUPPORTS
THESE AND OTHER LOCAL BUSINESS