Termignoni FULL Exhaust 2015 Diavel Part# 96480341A USED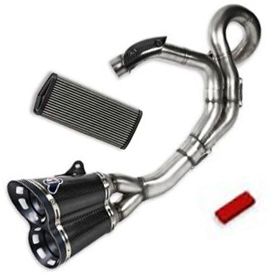 Termignoni FULL Exhaust 2015 Diavel Part# 96480341A USED
USED, VERY GOOD CONDITION, LESS THAN 50 miles on it.
Ducati 2015 Diavel FULL Termignoni Exhaust
Ducati Part# 96480341A
INCLUDES Air filter and MAP KEY
NO DAMAGE, AS NEW just without the new price.
With its thoroughbred sports style, the racing exhaust system - specially designed by Ducati Performance - is the most awesome accessory in the entire Diavel line. The assembly ends with a silencer in carbon fibre, the ultralight high-tech material that has, more than any other, revolutionized the motorcycling world. It blends perfectly with the top class aluminium undercrown, precision-machined from a solid block. The system also includes the exhaust guard. In addition to making your Diavel look a whole lot meaner, the kit also gives it a power boost, evident right from the bottom end, for previously undreamt-of performance levels.
Sound level 102db
8.8lb weight reduction from stock
Diavel 2015 models (Cannot be used on earlier models)
Please double check compatibility with your local dealer or on the Ducati Performance Accessory Catalog. NO returns on improperly ordered parts. Its your responsibility to confirm that this part number is compatible with your model year Ducati.
Retail price $3219.00
Buy it here for less
Reviews