Ducati Keys & Code Card Set Monster 659 696 795 796 1100 Streetfighter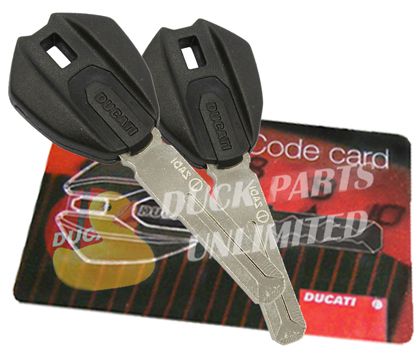 Ducati Keys & Code Card Set Monster 659 696 795 796 1100 Streetfighter
This is a NEW set of "Coded" AFTERMARKET keys and matching code card for any late model Ducati Monster 659 696 795 796 1100 and all Streetfighter models. Use these with new dash installation when you do not have your original keys and card available. These will NOT work on the Diavel, Panigale or Late Model Multistrada with Hands-Free ignition. For these models please contact us.

OPTIONAL KEY CUTTING SERVICE:

Cut to your original key or to the "Z-Code"

(On your Card)

Cut to your ignition lock if you DO NOT have any keys
Please be aware that you will need two uniquely coded keys
(NO Clones)
and the code card info in order to properly install, program, activate immobilizer and set PIN on new/virgin dash installations. Also these nor any other key/code card set will work to program a used dash. Used dashes are coded to their original bike and WILL NOT work on any other bike until you virgin or re-flash it, this process is not a DIY process. Please see the information section of the site or contact us for more information on using a used dash on your bike.
Reviews