System PIN / Code Card Recovery Service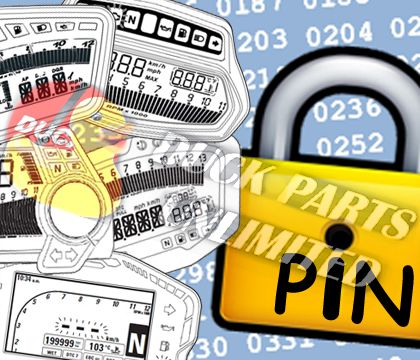 System PIN / Code Card Recovery Service
This service is for those who have either lost their Code Card to the original system or if you DID NOT get a Code Card with the used dash/ignition you purchased to replace a damaged unit. If you do not have a code card for your bike, you owe it to yourself to get it before its too late and ends up costing you even more money. Not all dashes will work on another bike with just the Code Card recovery. Please contact us if you have doubts or need clarification. 
Some models will allow to recover the original PIN or Electronic Code, while others will only allow for PIN reset to default so you can then set your own. More detailed information about this option and extra services is available in the "SERVICE-101" Section of this site or just CLICK HERE. If you don't find a specific service option listed or described in this section or if you have any questions please contact us outlining your situation and we'll gladly send you all your available options along with a quote.
ORDERING INFORMATION
Please select your model Ducati from the pull-down menu above. If model is not shown then this service option is NOT available for your model bike.

You must send us:
Your Dash or Ignition Switch

( Depending on model )

and a working key

COPY of Proof of Ownership

( For security reasons )

COPY of Government ID

( For security reasons )



Completed SRF ( DOWNLOAD HERE

and

SEND WITH PARTS )

Reviews