Termignoni FULL Exhaust 2015 Diavel Part# 96480641A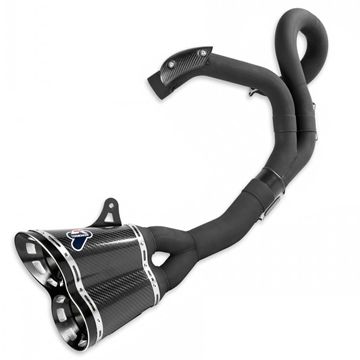 Termignoni FULL Exhaust 2015 Diavel Part# 96480641A
Ducati 2015 Diavel FULL Termignoni Exhaust BLACK CERAMIC COATED
Ducati Part# 96480641A
This full exhaust system from Termignoni features Ducati black ceramic coated pipes. The black manifolds with ceramic coating enhance the Diavel's naturally aggressive personality. With the carbon silencer and aluminum end cap, they create an exclusive "total black" look. In addition to reducing exhaust temperature by up to 33%, this exhaust features a dedicated up-map and a sound level of 102db.
Sound level 102db
Only 12.8 lbs (5.8 kg) vs 22 lbs (10 kg) OEM

Diavel 2015 models

Please double check compatibility with your local dealer or on the Ducati Performance Accessory Catalog. NO returns on improperly ordered parts. Its your responsibility to confirm that this part number is compatible with your model year Ducati.
Retail price $3719.00
Buy it here for less
Reviews